Aliya Levinstein,
PFLAG National Legislative Intern
Have you ever walked into a room and knew that when you left, you would leave feeling inspired?
I had that feeling two weeks ago when I attended a meeting and met Lizzie Velasquez, a motivational speaker and champion of the anti-bullying movement. I had the opportunity to hear her speak on Capitol Hill while she was here on a lobby trip to push for the passage of the
Safe Schools Improvement Act (SSIA)
, which would, if enacted, require all public K-12 schools to enact an anti-bullying policy that includes specific protections for bullying based on sexual orientation and gender identity, along with other categories like race and religion.
I personally had heard a small part of her story last winter, when she gave a TEDx talk that went viral on Youtube. The video is called
"How Do YOU Define Yourself"
. The talk (which I highly recommend you all watch) shares a little of Lizzie's story...and so much of her strong heart and mind. Lizzie has a rare disease that does not allow her to gain weight and she is blind in one eye, but she does not let that define her or stop her from reaching her goals. A documentary, called
THE LIZZIE PROJECT
, is now being made based on her story, and it is sure to empower anyone who sees it.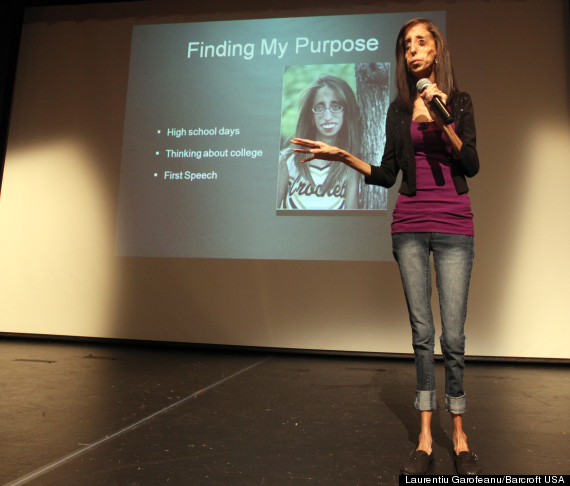 The feelings I had while watching her video were magnified tenfold during the meeting on Capitol Hill. I felt the respect everyone had for her emanating throughout the room while she was sharing her story. Her outlook on life is incredible; she uses everything she has gone through in her life to drive her forward. Her passion to push the Safe Schools Improvement Act through Congress is contagious. Her dream is to make sure that kids in school now are not bullied the way she was and that kids who do bully are accountable for their actions.
SSIA is a legislative priority for PFLAG. In addition to creating comprehensive anti-bullying policies, the act includes specific provisions that provide protections for LGBT students. The systemic bullying of not only LGBT students, but all students, needs to end. The detriments of being bullied are far too numerous, but SSIA, if passed, has the ability to constructively deal with the issue.
Lizzie said, "Don't stand up for me, stand beside me in this fight." Lizzie did not share her story to make people feel bad for her; she told it to inspire people to make a change. No one should ever have to be a victim of bullying and Lizzie has made it her goal to make that change; we all should as well.